Reuben Kline: When Too Many Choices Might Be Just Right
The research that Reuben Kline, PhD is working on is focused on climate change mitigation. As an associate professor of political science and the director of the Center for Behavioral Political Economy at Stony Brook University, he is concerned about the actions we'll take when presented with a list of options to mitigate climate change.
Reuben's research asks which lists are more effective: Long lists (in harmony with neo-classical economic theory to offer lots of choices) or short lists (in harmony with behavioral research on the tyranny of too many options)? He's also studying the impact of offering people lists of difficult things compared to easy things, or when there's a mix of both. Would it help the consumer to make trade-offs if there was a variety of effort offered to them?
His work reveals some of the complications of how we think about lists of varying length and effort when it comes to climate change mitigation.
At one point, we asked Reuben about how he feels when he hears from climate deniers and he noted with a laugh, "I study climate change, so I'm always depressed." But he was also quick to point out that he's optimistic about how people respond to some of his research. We should be optimistic, too, with people like Reuben researching these topics.
We recorded this conversation at the NoBeC conference at the University of Pennsylvania where Reuben was presenting his findings to the students in the Masters of Norms and Behavior Change program at UPenn. In an alcove beside the main hall, we discussed the behavioral impacts of offering mitigation strategy lists to consumers. And we are grateful to Chris Nave, PhD and Eugen Dimant, PhD for hosting us at the conference.
© 2019 Behavioral Grooves
Podcast: Play in new window | Download
AIRDATE: December 23, 2019

EPISODE 105

Podcast: Play in new window | Download
Reuben Kline: When Too Many Choices Might Be Just Right
Featured Guest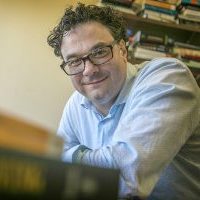 Reuben Kline