John Sweeney: Everything Is a Story
John Sweeney is the author of Innovation at the Speed of Laughter: 8 Secrets to World Class Idea Generation, corporate keynote speaker, improvisational impresario, the actor known for his character Jiggly Boy, a brainstorming and innovation maniac, and the owner of the Brave New Workshop, an improvisational theatre in Minneapolis, Minnesota for more than 20 years.
More importantly, John is an accidental behavioral scientist. His worldview is based on observations he has made about human interactions in group settings and those interactions are, as you guessed, behaviorally based. John and his colleagues lead workshops on innovation that leverage principles from behavioral science and they do it with lots of laughter.
In our conversation with John, we talked about things he's passionate about. We talked about how his character, Jiggly Boy, that was created to raise awareness for Minnesota's professional basketball team, became a conduit to raise money for the Smile Network, an international humanitarian organization that provides life-altering reconstructive surgeries. The 11 million YouTube hits have contributed, via a link on the Jiggly Boy page, to raising hundreds of thousands of dollars for Smile Network. Very cool, indeed.
John also shared stories about how an in-person knife throwing demonstration was used in pitching his book at a book buyer's convention (talk about vividness!) and how he brings new and novel ideas to corporate clients.
Aside from being gut-splitting funny, we discovered John shared important behavioral science principles to groove on after our conversation. One was the power of "Yes, and…" and how, with practice, it can become a way of life. Another was the importance of psychology safety and how it's sorely missed in the corporate world today.
The last topic we grooved on was the concept of how you practice improv when it is unpracticable and how we can use narrative to engage and persuade.
This episode was recorded LIVE during our Behavioral Grooves meetup at John's theatre, the Brave New Workshop. We wanted to bring John's outsized personality to life, so a live audience seemed most fitting and we are grateful that he offered up his theatre as the venue. Thank you to John, Renee Scott, Matthew Vichlach and Craig Anderson for their support.
We laughed and laughed. A LOT. And we suspect you will, too. We hope you enjoy our conversation with John Sweeney.
Podcast: Play in new window | Download
AIRDATE: February 11, 2019

EPISODE 53

Podcast: Play in new window | Download
John Sweeney: Everything Is a Story
Featured Guest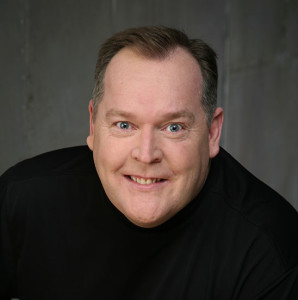 John Sweeney
LINKS
John Sweeney: https://www.linkedin.com/in/johnsweeneybrave/
Brave New Workshop: https://www.bravenewworkshop.com/  Motto: "Promiscuous hostility, positive neutrality."
Jiggly boy: http://www.jigglyboy.com/
Smile Network: http://www.smilenetwork.org/
Innovation at the Speed of Laughter: 8 Secrets to World Class Idea Generation, (2007) Aerialist Press.  https://www.amazon.com/Innovation-Speed-Laughter-Generation-Paperback/dp/0976218437/ref=sr_1_1?ie=UTF8&qid=1549486513&sr=8-1&keywords=innovation+at+the+speed+of+laughter
Brainstorming: https://en.wikipedia.org/wiki/Brainstorming According to Wikipedia, "…brainstorming is a situation where a group of people meet to generate new ideas and solutions around a specific domain of interest by removing inhibitions." A dozen top websites echo this requirement to remove inhibitions, but none really address it. Sweeney does.
Yes, and…: https://en.wikipedia.org/wiki/Yes,_and…
On role-playing and brainstorming: "Take it to the next stage: the roles of role-playing in the design process" by Kristian T. Simsarian, IDEO (2003) published in CHI '03 Extended Abstracts on Human Factors in Computing Systems, pages 1012-1013. https://dl.acm.org/citation.cfm?id=766123  Role-playing is complementary to traditional design techniques providing additional team dynamics and insights that bring the process and designs to another level.
Project Aristotle: https://rework.withgoogle.com/print/guides/5721312655835136/
Bell, David A., "Regret in Decision Making Under Uncertainty," Operations Research Society of America, 1982. http://www.people.hbs.edu/dbell/regret%20in%20decison%20making%20.pdf
Davis, Miles: Kinda Blue: https://www.youtube.com/watch?v=0fC1qSxpmKo Or, if you can, check out the 1997 reissue of the record featuring an alternative version of "Flamenco Sketches" to compare to the one released on the original 1959 recording. This comparison provides great insight into the tremendous improvisational power of Davis and his talented band.
Dr. Dimento: https://www.drdemento.com/
Dr. Science: https://www.youtube.com/watch?v=6KUEg8rwzUA
Kurt and Tim help companies positively apply behavioral insights into their organizations – let's have a conversation about how we can help your company. You can reach us at Kurt@lanterngroup.com or Tim@behavioralchemy.com. We'd love to help your organization improve your bottom line with a behavioral lens.
Subscribe at: https://behavioralgrooves.podbean.com/