GAABS and Improving the Future for Every Applied Behavioral Scientist
GAABS is an organization that was recently founded to act as an accrediting body for applied behavioral scientists. GAABS is The Global Association of Applied Behavioral Scientists and is open for membership for those who demonstrate their ability to ethically apply behavioral science to their work.
In this episode, we spoke with co-founding members Nuala Walsh and Steve Martin. Nuala is a contributor to Harvard Business Review and is the founder of MindEquity – a behavioral science consultancy based in Dublin. And Steve Martin is the co-author, with Robert Cialdini and Noah Goldstein, of Yes! 50 secrets from the Science of Persuasion, which has sold more than a million copies and been translated into 27 languages. Nuala is a repeat guest that was featured in episode 203 about whistleblowers and fake memories, and Steve was featured in episode 110 with his co-author, Joe Marks. Together, they wrote "Messengers: Who We Listen To, Who We Don't, and Why."
In our conversation, we discussed what GAABS is and what they're hoping to do to help both practitioners of behavioral science as well as the professionals and institutions that hire those services. On a more philosophical note, we steered into what is lacking in applied behavioral science these days and agreed that there are many fields that could benefit from a behavioral science lens. And across the board, we agreed that education for all parties is critical for the field to be successful.
On an educational note, Steve wryly noted that students could use more psychology and less geography in the classroom, and teed up the novel concept of prac-ademics. And, later, Nuala introduced the idea of leveraging trends, like big data, and noted, "if we marry behavioral science with data science, we actually have an in."
We hope you enjoy our conversation with Nuala and Steve and that you'll check out the Behavioral Grooves Patreon site at www.patreon.com/behavioralgrooves. Now go out this week and find YOUR groove.
© 2021 Behavioral Grooves
Podcast: Play in new window | Download
AIRDATE: March 14, 2021

EPISODE 209

Podcast: Play in new window | Download
GAABS and Improving the Future for Every Applied Behavioral Scientist
Featured Guest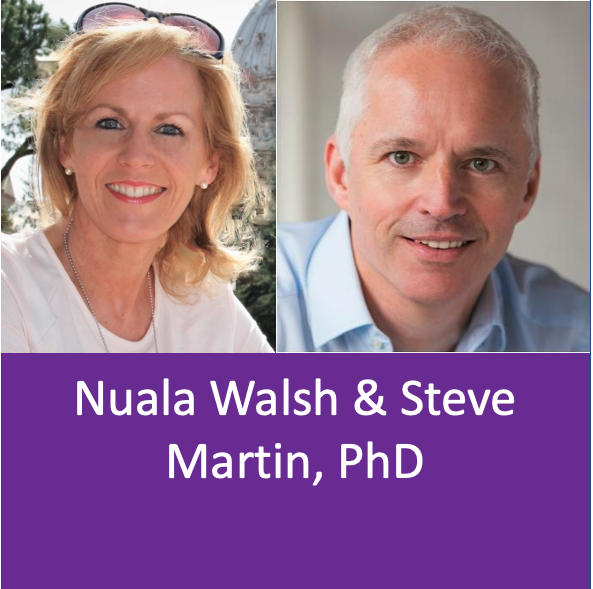 Nuala Walsh and Steve Martin
Featured Artists